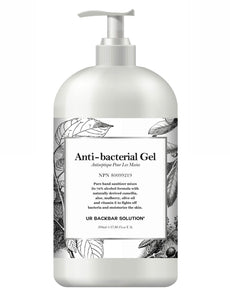 Ur Backbar Solution® Anti bacterial gel (advanced hand sanitizer)
This Anti-bacterial pure hand sanitizing gel is formulated with 70% v/v naturally (sugar cane, sugar beets, tapioca, rice) derived alcohol for maximum germ-killing ability (exceeding both CDC and WHO sanitizer guidelines) yet leaves hands feeling moisturized and protected.
Rich natural moisturizing agents(Camellia, Mulberry, Olive oil, Aloe vera and Vitamin E) are both soothing and highly effective while Killing 99.9% of bacteria and Germs.
The NPN number associated with the product means that Health Canada has assessed the product and decided it is safe, effective and of high quality. At that time Health Canada issues the product a licence along with an eight-digit Natural Product Number (NPN) or Homeopathic Medicine Number (DIN-HM), which is affixed to the label.
Ur Backbar Solution®
Anti-Bacterial Gel is licensed for sale in Canada. (NPN 80099219) and KFDA Approved
(Korea food & drug administration)
Cruelty-Free | Vegan
500ml / 17.86 fl oz